Continuity, Control, Comfort
Continuity: Stirlitz Media software just works.
Stirlitz Media does what it is supposed to do without you having to finetune it, or worse reboot it, every two weeks. Once you have gone through the straightforward installation procedure, your people will be able to use all advanced features of Stirlitz Media as long as they know how to browse the web… You know who we are talking about…
When you will follow our minimum system requirements, the software will not fail on you. It will run without hick-ups and will deliver exactly those results we have described in this website. Just make sure the hardware and power supply are taken care of… you can count on Stirlitz Media.
Control: know when something goes wrong before the complaints arrive
Stirlitz Media Logger does not only log audio and video in various bitrates for logging or rebroadcasting purposes, it also checks for 'silences' and 'freeze-frames'. The moment it detects a 'silence' longer that the maximum value you have indicated during setup, it will send you an email and/or SMS. You can even monitor the audio in different places in the production process so you immediately know where the mistake is. Stirlitz Media Logger puts you in control!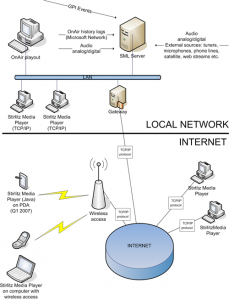 Comfort: no worries – no complaints
Because Stirlitz Media software is so stable and so easy to operate for the end user, you can focus on other things. You do not have to worry about failing software and you do not have to explain your management how they can access, export or identify files. Our software is rock-stable and extremely consumer friendly.
Don't take our word for it…
Just install the free but fully functional Stirlitz Media Logger test server in your station and see for yourself how easy the software adapts itself to your needs, how stable it runs and how pleased your chiefs will be with a user interface they understand!
Contact us and we will get back to you as soon as possible to give you the download details and installation instructions.